At The Gourmet Potato Hill, we spend at lot of time exploring recipes for consideration with our potatoes. We then explore cooking our potatoes with these recipes together with recipes we have been creating.
Annette Hill is in charge of this endeavour – and as you can imagine, this is something she does with great delight and full on passion.
Consequently, we have many wonderful testing meals and are very spoilt in our exploration of how to draw out the exquisite flavours and superb textures combinations.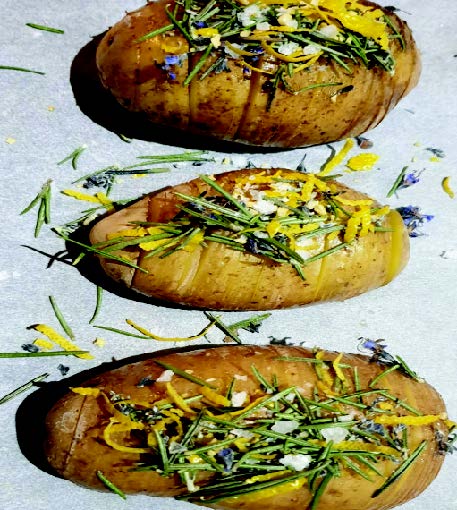 The Perfect Hasselback
Superb flavour, creamy texture with crispy edges
Equipment
2 x Same size wooden spoons or Chopsticks as a cutting guide

Baking tray

Grease-proof paper or Baking paper

Basting brush
Ingredients
4

Sir James potatoes

1 per person

100

g

Butter

100

ml

Olive oil

Mixed herbs

Rosemary etc.

Salt

Pepper

Lemon zest

Chives
Instructions
Prepare the Potatoes
Scrub potatoes - leave skin on

Slice small portion of flesh off the underside so potato sits flat

Take two wooden spoons same size or 2 chopsticks and lay either side of the potato to act as guide for the cutting

Slice finely through the potato to the spoons or chopsticks - slices 2 to 3 mm apart, depending on your preference

Fan the potato and place on a tray with greaseproof paper
Prepare the Baste
In a separate saucepan, combine equal amounts of olive oil, butter and favourite herbs - infuse over heat
Cooking
Place tray of potatoes into top shelf of pre-heated oven at 200° C for 40 - 45 minutes

Continue to baste whilst cooking
Serving
Serve with salt, pepper, lemon zest and chives to taste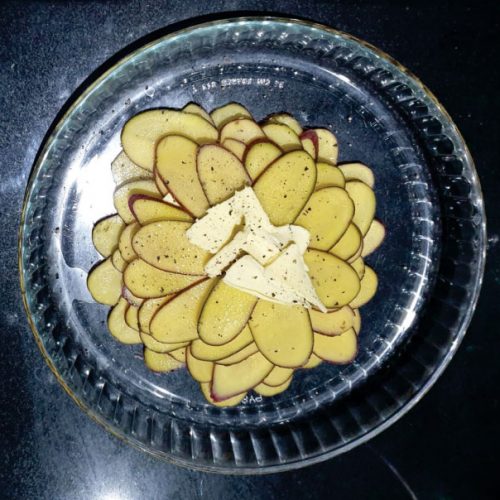 A Delicious Pommes Anna
Equipment
Oven

Frying pan

Pastry brush

Mandolin for thin slicing (or a sharp knife)

Baking tray

Baking paper

Aluminium foil
Ingredients
8

Dutch Red potatoes

Medium size

2

tbsp

Butter

2

tbsp

Duck fat

(use 1 extra tbsp of butter if not available)

2

cloves

Garlic

peeled and bruised

2

tbsp

Fresh Thyme leaves or Rosemary leaves

1

Spanish onion

finely sliced

Salt and Pepper to taste
Instructions
Preparation
Line baking tray with baking paper

Wash and clean Dutch Red potatoes

Melt butter in frying pan with bruised garlic cloves

Using the Mandolin on the thinnest setting, slice the potatoes lengthwise, otherwise use a sharp knife to slice the potatoes lengthways into approximately 3mm slices

Fan out one layer of potatoes onto the baking tray, approximately the size of a dinner plate

Remove bruised garlic from the butter and use pastry brush to evenly coat the potato layer with the garlic flavoured butter

Season the layer with salt and pepper and sprinkle the finely sliced onion and your choice of herb leaves across the layer

Repeat the process with each layer, reducing the fan of the potatoes gradually so that you end up with your top layer being the size of a tea cup saucer

Brush the top with remaining butter, season with salt and pepper. If using Duck Fat, place on top in centre
Cooking
Cover the tray with baking foil and place on middle shelf in oven. Bake the potatoes for 25-30 minutes until they are tender

Remove the foil, baste with butter from baking tray and then bake another 25-30 minutes or until the top layers are golden and the edges are crisp and slightly curling

Remove from oven and serve hot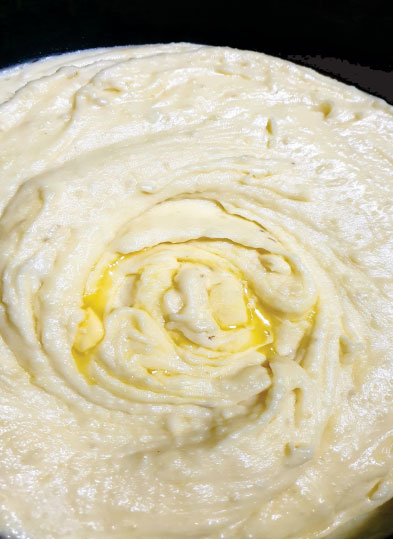 Paris Mash
Equipment
Pot

Small saucepan

Sharp knife

Colander

Potato ricer or masher

Wooden spoon for stirring
Ingredients
6

large

Queen Mary potatoes

the same size approx 800g worth

300

g

Unsalted butter

cold

300

ml

Milk

hot

3

pinches

Fine salt

1

tbsp

Good quality Olive oil
Instructions
Place whole potatoes with skin-on in a large saucepan and cover with cold water

Add a pinch of salt and the olive oil and bring to the boil

Once boiling, reduce the heat and simmer for 25-30 minutes. Test with a knife - if blade moves through easily, they are ready to be drained

Drain in colander and then return to the pot to dry off

Carefully peel the potatoes while they are still hot

Pass the peeled potatoes through a ricer or use a hand masher then put potato mash back into the saucepan

Stir the mash with a wooden spoon until all the moisture is removed - this can be done over a low heat

Pour milk into a smaller saucepan and bring to the boil - then reduce the heat to a simmer

Place the mashed potato over a low heat and add 50g of butter, stirring until combined

Add 50 ml of the hot milk and stir until combined. Repeat this process until all of the butter and milk has been added and the mash is creamy and fluffy

Use remainder of salt to season to taste
"I didn't like potatoes until your potatoes."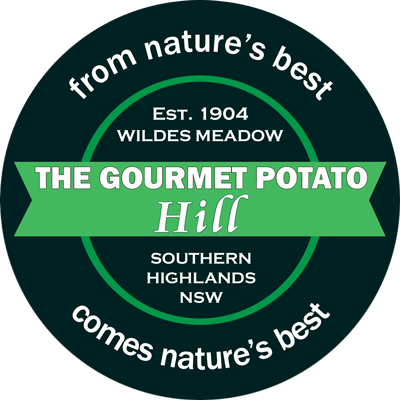 "Best potatoes I have ever had."
The Gourmet Potato Hill combines the extraordinary skills of two Hill families. One Hill family that is remarkable in its growing skills in those magnificent basalt soils of Wildes Meadow and Robertson in the Southern Highlands of New South Wales. The other Hill family that is exceptional in understanding of the flavours and textures of potatoes and how best to marry those to people's needs and wants of high quality, truly delicious food.
Today, The Gourmet Potato Hillis setting a standard for providing the best of the best – as the legendary chef Neil Perry stated: "21 out of 20. The Best Potatoes in Australia." This is a new benchmark in appreciation we are incredibly proud of. That pride is further enhanced by the wonderful appreciation of Lennox Hastie:  "Amazing integrity of flavour and integrity of texture."
"21 out of 20. The Best Potatoes in Australia."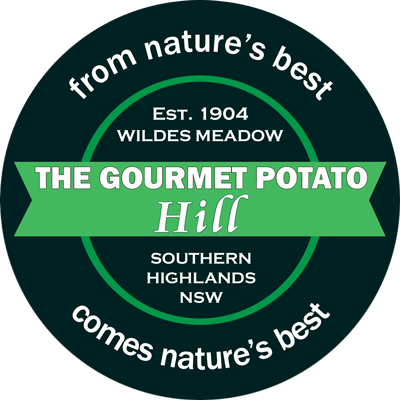 "Amazing integrity of flavour and integrity of texture."
Our potatoes truly are different in flavour and texture and thus the way you cook which is to focus on drawing out their delicious flavours. This is why we constantly and regularly receive from our customers comments such as:
"I love your potatoes"
"I didn't like potatoes until your potatoes"
"Yours taste like the ones from Denmark – I have finally found fabulous potatoes."
" Best potatoes I have ever had."
"The last batch you gave me did not even need dressing for a salad as so much flavour in them"
"Your potatoes don't last – because we eat them so fast. My children now really like
potatoes. My children's friends say our potatoes are great."
People ask us why our potatoes taste so different to anything else they have tried or known before.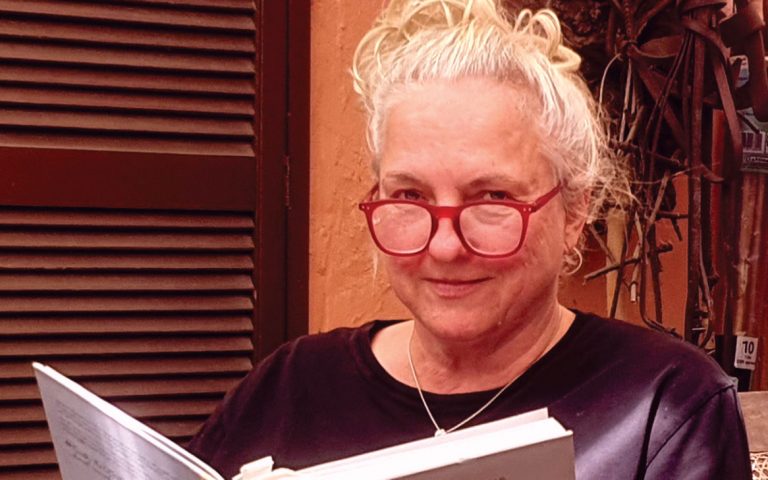 "Our potatoes are bursting with true flavours drawn from soils full of rich organic matter"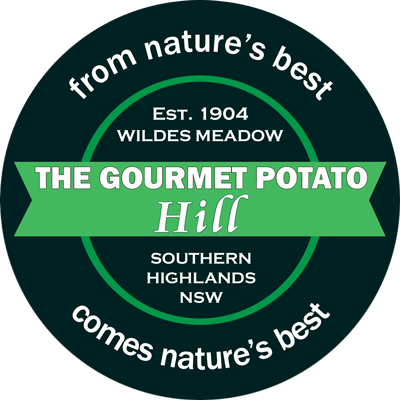 "We test, test and test for flavour, texture and how best to cook these fabulous potatoes."