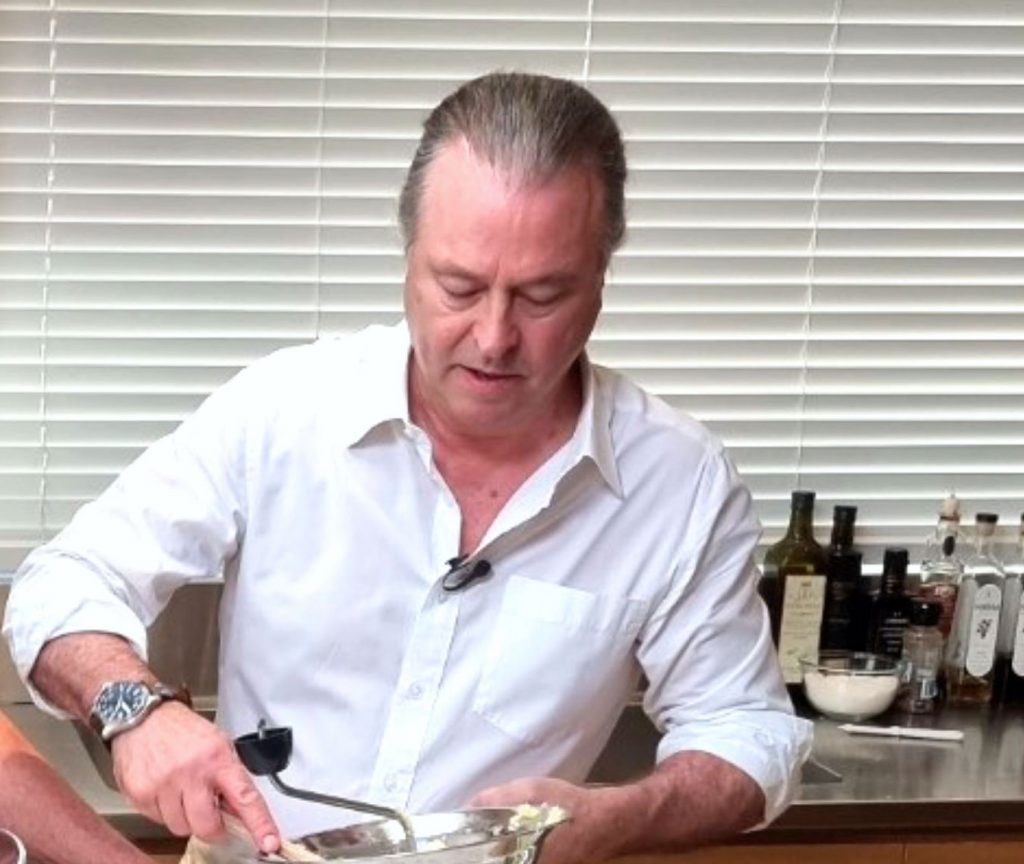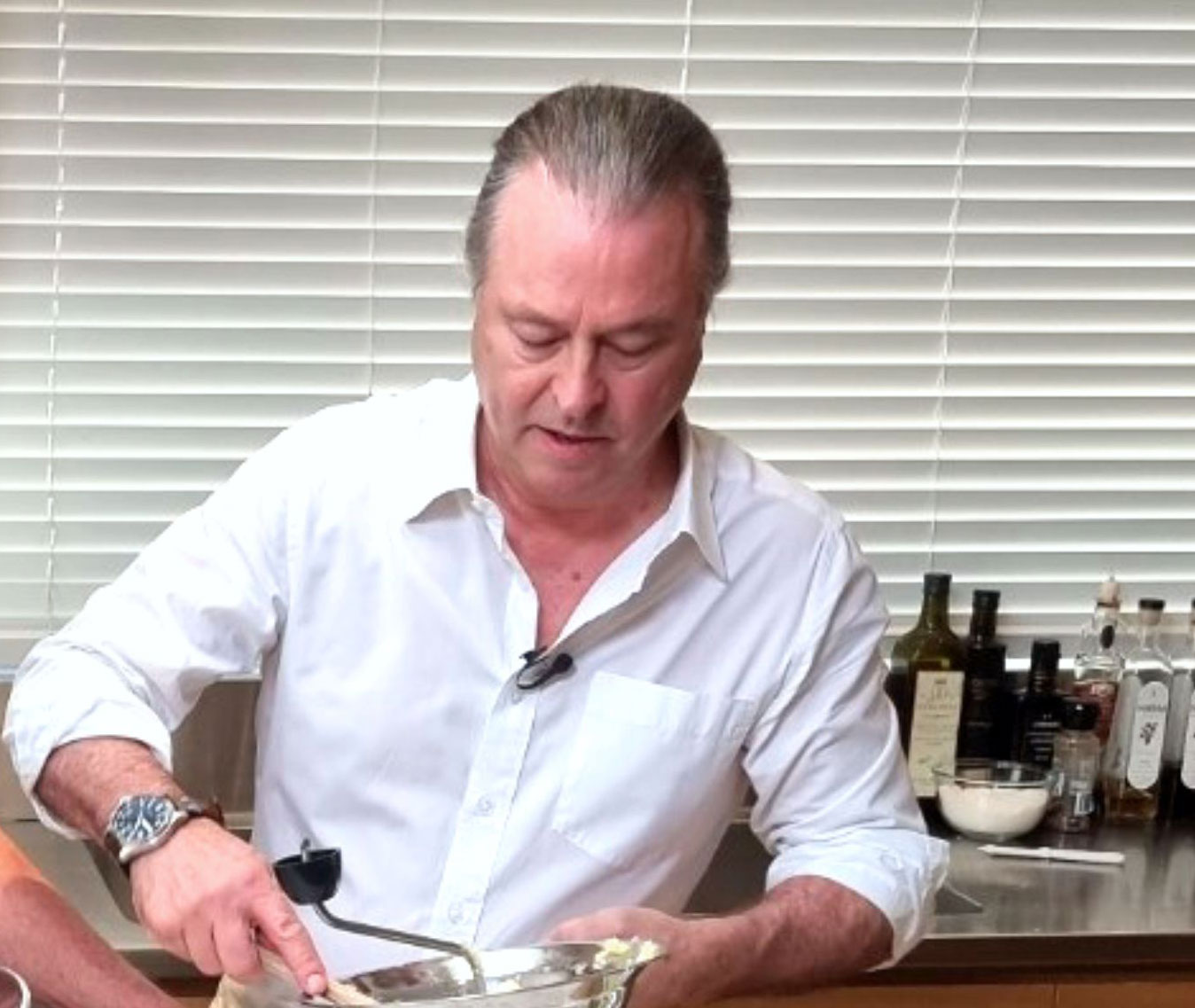 NEIL PERRY'S
POTATO RECIPES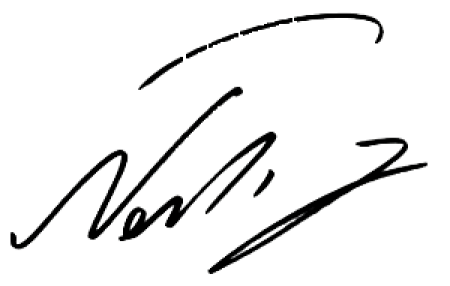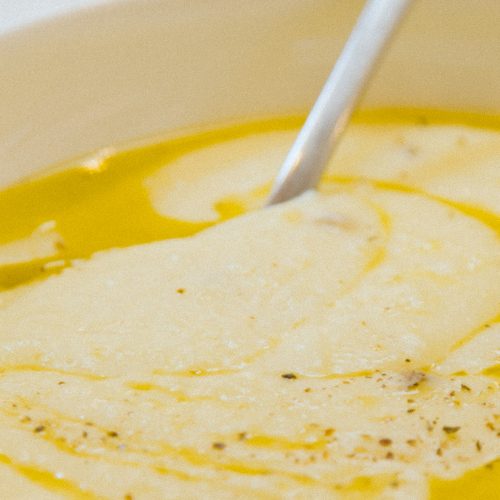 Neil Perry's Potato Puree
A smooth, decadent and delicious dish, bringing the flavours of our potatoes to life with this restaurant quality recipe that your family and friends will love.
Equipment
Large saucepan

Medium saucepan

Large bowl

Paring knife

Gloves or Tea Towel for peeling hot potatoes

Potato ricer or Mouli

Wooden Spoon

Serving dish & spoon
Ingredients
1

Kg

Queen May or Sebago Supreme potatoes

300

g

Salted cooking butter - cold

200

ml

Warm milk

2 - 3

pinches

Salt

Olive oil (optional)

White or black pepper to taste
Instructions
Boil washed potatoes with skin on in large saucepan for 25-30 minutes until super tender and then strain and allow to dry

Using gloves, take potatoes while still hot to warm and remove as much of the skin as you can using a paring knife

Roughly slice potatoes and place into Potato Ricer or Mouli

Add potato and 200ml warm milk to bowl and begin to combine using wooden spoon

A 2 pinches salt and continue to combine

Cut 300g butter into 4 chunks and add to bowl, continue to combine

Take a quick taste test, and add another pinch of salt if needed

Continue to combine until a smooth, creamy texture is achieved

Serve either on its own, or garnish with a swirl of olive oil

Add ground white or black pepper to taste
Video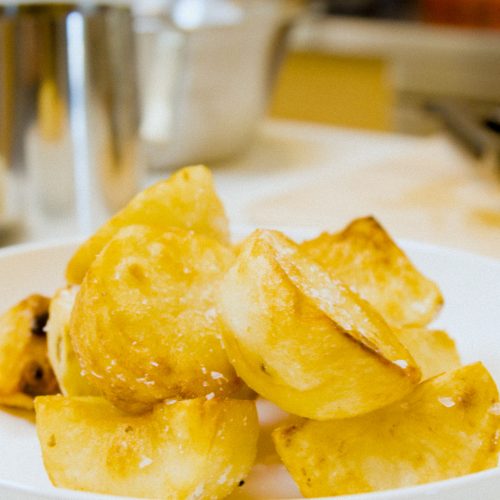 Neil Perry's Pan Fried Potatoes
A gourmet twist on a family favourite, create stunning, crispy pan fried potatoes with this simple recipe using our delicious Sebago Supreme potatoes.
Equipment
Large saucepan

Frying pan

Knife
Ingredients
500

g

Sebago Supreme potatoes

200

ml

Olive oil

Sea salt

Optional: High quality butter
Instructions
Cook washed potatoes in salted water, skin on, for 15 minutes, do not add more salt in the pan!

Strain potatoes and allow steam to dry them

Add olive oil to frying pan on medium to high heat

Cut potatoes into large chunks of similar sizes to ensure a consistent result

Once oil is at temperature, add potatoes to frying pan

Cook potatoes in frying pan for 15 minutes, rotating often to cook evenly until golden brown and crisp

Transfer potatoes to a large bowl

Toss cooked potatoes with a liberal sprinkling of sea salt and serve hot!

Optional: Add a thin slice of high quality butter on top!
Video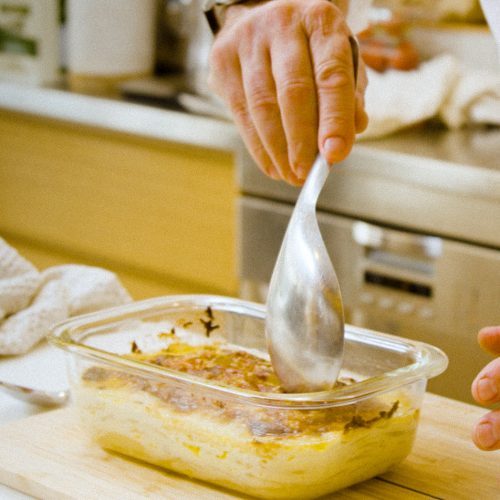 Neil Perry's Potato Gratin
Warm up from the winter blues, or serve cold as a moreish addition to any summer barbeque, enjoy this classic Potato Gratin recipe all year round.
Equipment
Oven

Mixing bowl

Shallow round baking dish

Sharp knife or Mandolin
Ingredients
500

g

Dakota Chief potatoes

250

ml

Cream

Sea salt

Freshly ground white pepper

30

g

Unsalted butter, melted

30

g

Freshly grated Gruyere cheese

20

g

Freshly grated Parmesan cheese
Instructions
Use mandolin to thinly slice potatoes into approximately 1mm thin slices

Place sliced potatoes into bowl

Add cream to bowl and gently mix through sliced potatoes

Place potatoes flat, overlapped and evenly in lightly greased (with unsalted butter) baking dish, stopping every now and then to add another pinch of salt, until all potatoes are in place

Pour remainder of cream from mixing bowl over the top of the potatoes until just over half way up the baking dish, don't overfill to avoid the potatoes becoming too creamy

Add another pinch of salt across the top

Add freshly grated cheeses over the top, covering evenly

Place baking dish in preheated oven at 180°C and cook for 40 to 50 minutes until golden brown, use a paring knife to test if the potatoes are super tender
Video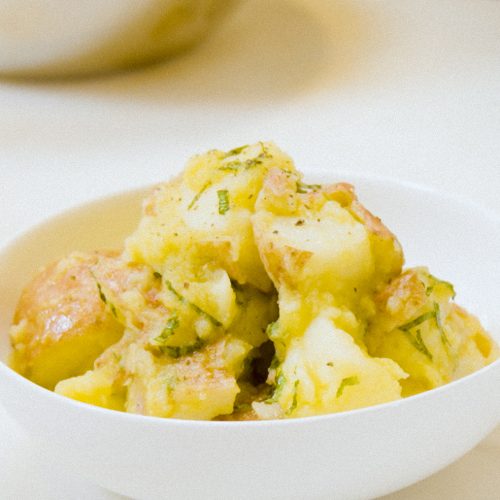 Neil Perry's Boiled Potatoes with Extra Virgin Olive Oil, Lemon and Mint
Bring an impressive touch to the humble boiled potato with this simple recipe that bounds with flavour and texture!
Equipment
Large saucepan

Mixing bowl
Ingredients
500

g

Dakota Chief potatoes

1

whole

Lemon, juiced

12

Fresh mint leaves, washed dried and julienned

Sea salt

Extra Virgin Olive Oil
Instructions
Boil washed potatoes in heavily salted water until tender, approximately 15 minutes

Drain potatoes, slice into rough chunks around 5cm, or just cut smaller potatoes in half, and add to mixing bowl

As potatoes are steaming, add 160ml of Extra Virgin Olive Oil, the juice of 1 lemon, julienned mint leaves, a generous pinch of salt, freshly ground white pepper

Stir gently to mix ingredients

Use the back of a fork to lightly crush a few of the potatoes for texture and presentation

Add a swirl of Extra Virgin Olive Oil and gently mix again

Optional: Add freshly chopped spring onions for freshness and crunch

Serve warm or room temperature, garnish with more Extra Virgin Olive Oil and Sea Salt & Pepper to taste, and enjoy!
Video
The Gourmet Potato Hill combines the extraordinary skills of two Hill families. One Hill family that is remarkable in its growing skills in those magnificent basalt soils of Wildes Meadow and Robertson in the Southern Highlands of New South Wales. The other Hill family that is exceptional in understanding of the flavours and textures of potatoes and how best to marry those to people's needs and wants of high quality, truly delicious food.
Today, The Gourmet Potato Hillis setting a standard for providing the best of the best – as the legendary chef Neil Perry stated: "21 out of 20. The Best Potatoes in Australia." This is a new benchmark in appreciation we are incredibly proud of. That pride is further enhanced by the wonderful appreciation of Lennox Hastie:  "Amazing integrity of flavour and integrity of texture."
"21 out of 20. The Best Potatoes in Australia."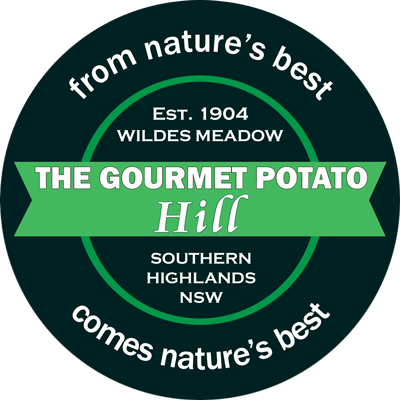 "Amazing integrity of flavour and integrity of texture."